New Vehicle Specials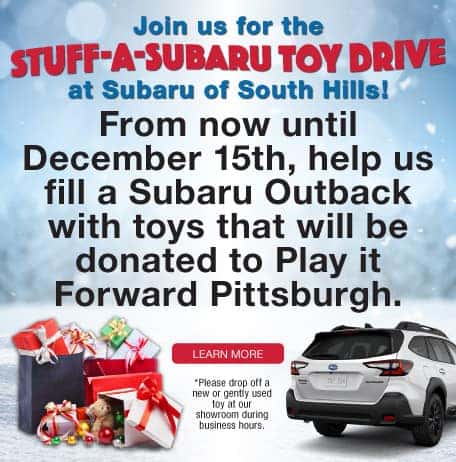 We are currently updating our monthly offers. Please check back shortly for updates.
In the meantime, here are some links that you might find helpful:
Save on Your New Subaru Vehicle with the Subaru Financing and Lease Specials at Subaru of South Hills
Everyone who is shopping for a new car near Pittsburgh, PA is looking for a great deal. They want to find a high-quality vehicle at a price they can afford. While some people choose to focus on only price when they look for great value, the truth is that there are ways to save a lot more money in the long-term. With the Subaru financing and lease specials at Subaru of South Hills, located at 3260 Washington Rd. in McMurray, PA, you can end up saving on a new Subaru car, hatchback, or SUV.
Explore the Subaru Financing Offers
Are you someone who sees themselves getting an auto loan for their new Subaru vehicle? Despite the rise in the popularity of lease agreements, there are still many folks who are better suited to take their daily commute to Mt. Lebanon, PA in a Subaru car, hatchback, or SUV they purchased with a car loan. The good news is that Subaru of South Hills often has exciting financing offers for you to peruse. These financing specials have offered rates with APRs as low as zero percent on many exciting Subaru models.
Discover All of the Subaru Lease Deals at Subaru of South Hills
Do you see yourself driving through Bethel Park in a Subaru vehicle that you just leased? Subaru lease agreements are very popular among customers because they allow them to drive a new vehicle at a low monthly payment. Additionally, a Subaru lease also allows them to get a new vehicle every few years that is loaded with the latest technology. Luckily, Subaru of South Hills always has lease deals on new Subaru models, like the Subaru Impreza, Forester, Legacy, Outback or Crosstrek. If you want that kind of experience, you should check out all of the lease specials on new Subaru models.
We Have a Great Selection of New Subaru Vehicles
It is no wonder that so many of your friends and neighbors in Canonsburg, PA make the short drive to our dealership. We have a vast array of new Subaru models. The Subaru brand allows you to explore the world around you because of the versatility built into each model. Buying or leasing a new Subaru vehicle is ensuring that you can have a great driving experience.
Apply for financing with Subaru of South Hills, in McMurray, PA, today, so you can take advantage of one of our specials before they expire.