Only Subaru's that have less than 80k miles on them and are less than 3 model years old qualify for the program.

 The dealer must be Certified by Subaru to offer the program.

Some dealers will lead you to believe they have "SUBARU CERTIFIED" cars but they are playing with words!! If their ad does not have this
          SUBARU CERTIFIED PRE-OWNED LOGO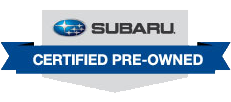 then it's not Certified by Subaru!


Genuine Subaru parts only go into the Subaru certified pre-owned vehicles.  No third party parts here.
Subaru's Certified Pre-owned vehicles have gone through a strict 152 point inspection and comes with a factory 100,000 mile power train warranty.

Each Subaru in the CPO program will be sold with documentation including the 152 point check sheet signed by the tech who did the work, any repair orders needed to bring the Subaru to CPO standards and the Carfax report.

Special financing & a warranty is also available.
The only certified pre-owned program governed by Subaru. 
If the dealer refers to their car as Certified - Make sure it is Certified through Subaru Of America!!!
Plenty of Road Ahead
When you buy a Subaru Certified Pre-Owned vehicle, you can feel confident that it's ready to roll. Each vehicle is from the current or past three model years, and has been driven fewer than 80,000 miles. Since 94% of the vehicles we've built in the past 10 years are still on the road today,* you can expect to enjoy it for awhile.
You'll know your vehicle meets Subaru's high standards because each one has received a CARFAX® Vehicle History Report, a rigorous 152-point inspection and reconditioning wherever needed. And, it will come with a Subaru-backed extended vehicle service agreement and roadside assistance, so you can buy pre-owned with peace of mind.